Cash For Gold Direct™ takes pride in providing the highest quality experience when selling your scrap gold or jewelry. On average, we pay more than our competition and of course, there are no fees or hidden costs. On shipments of under 10oz, we apply a simple graduated payment scale, based on the weight and type of material in the shipment. This ensures you get the highest payment for your scrap gold and broken jewelry.
Payments below are based on pennyweight (DWT) unless otherwise noted.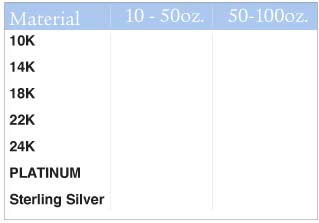 Here at Cash for Gold Direct™, we pride our selves on paying you more for you unwanted items. Our knowledge and experience in the industry gives us an advantage over our competition. Our evaluation team has over 20 years of experience in accurately evaluating precious metals and jewelry and you reap the benefit. We are so confident in the prices we pay that if you are not completely satisfied with the payment, you can return the check and we will return your items to you, no questions asked.